Libros
Introduction to Spanish and Portuguese Corporate Law = Gesellschaftsrecht in Spanien-portugal Eine Einführung mit vergleichenden Tabellen
Javier Cremades
Heidelberg: Rehm
2004
120 páginas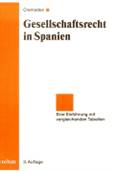 Deutsch: Konzept und Inhalt der vorliegenden Werke verfolgen zwei Ziele:
In der Einführung werden das WEsen und die Grundelemente aller Gesellschaftsformen des spanischen Handelsrechts anschaulich dargestellt.
Die vergleichenden Tabellen, mit Rasterbegriffen wie Gründung, Haftung, Organe, Gewinn-und Verlustverteilung u.a., ermöglichen eine rasche Orientierung und verdeutlichen übergreifende Zusammenhänge ebenso wie Besonderheiten. Die Darstellung wurde bewusst auf die wesentlichen rechtlichen Kriterien beschränkt. Berater von Unternehmen, aber auch die Unternehmer selbst, die ihre Geschäftsbeziehungen erweitern wollen, finden eine problemspezifische Entscheidungshilfe.
English: These two Introductions to Spanish and Portuguese Company Law are intended to give a first insight to the German public interested in Spanish-Portuguese Law and, in particular, in Company Law. The reader will find information about corporate notions and concepts as well as a presentation of the different types of companies by means of tables in which their main features are pointed out.